Engineered Herringbone Prime Uv Oiled 18mm x 4mm x 90mm
Engineered Herringbone Prime Uv Oiled 18mm x 4mm x 90mm
Product Code: OE18490Oiled
Pack Price from: £37.99 / m2
Description
Herringbone flooring, which is also known as parquet flooring is one of the most traditional floors. Instead of planks of flooring, the herringbone pattern is made up of smaller blocks of flooring that can be laid in a variety of geometric patterns with the most common pattern being herringbone. It is important to remember that 'herringbone' refers to the pattern and style of flooring and not the color or surface finish.
Herringbone flooring can transform any space with its luxurious appeal.
Engineered parquet block flooring is also compatible with underfloor heating and great for any room in your home as it can be used in rooms with fluctuating temperatures and large amounts of glazing, such as conservatories.
Key Features:
Engineered 18mm wood flooring suitable for any budget
Generous 4mm sandable depth will allow you to sand and refinish your floor many times
The engineered construction is more stable than solid wood which means it is less likely to gap, warp or cup
Narrow planks will make smaller rooms look bigger, random lengths which replicate the look of solid parquet wood floors
Beveled on all 4 sides for a subtle plank definition
The oiled finish combines the durability and low maintenance properties of a lacquered floor with the traditional look of oiled hardwood
Installation:
Please ensure this flooring is installed by an experienced floor fitter or other competent professional.
Full stick, secret nails, or T&G screws for solid, well-secured feel
Suitable for underfloor heating and all areas except bathrooms and wetrooms
Shorter acclimatization period comparing to solid wood, ready to fit in a couple of days
Please see the installation manual for further information
Full Specification
Installation
Secret Nailed or Glued Down
Width x Thickness
18mm x 90mm
Free Sample Available
Yes
Underfloor Heating
Suitable
Manufacturer's Suggested Retail Price
£77.99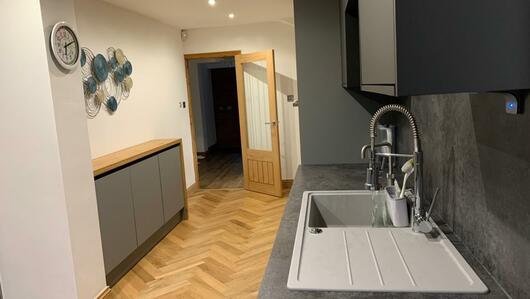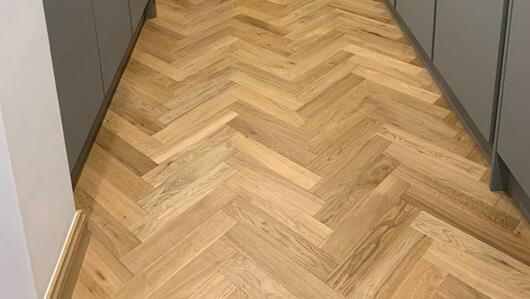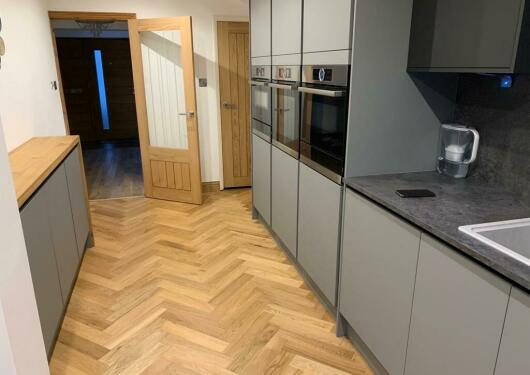 Herringbone is a beautiful pattern to incorporate into a space that needs a little extra punch, or a subtle sense of visual "texture," or anything in between. It's easy to incorporate herringbone pattern into your décor.
With its emphasis on precision and angles, herringbone pattern in almost any case is an excellent foundation for symmetrical décor. Industrial meets elegant with a herringbone style & wood grains that make a herringbone pattern even more pronounced, in a perfectly perfect sort of way.