Engineered Natural Brushed & Oiled Click 14mm x 3mm x 207mm
Engineered Natural Brushed & Oiled Click 14mm x 3mm x 207mm
Product Code: Oe143207broclick
Pack Price from: £43.00 / m2
Description
This 14mm oak flooring offers an exceptional value to those looking for a wide plank format combined with 80% fixed lengths of 1860mm. The 3mm sandable veneer allows for several refinishes in the future and the engineered construction with plywood backing ensures maximum stability. It is suitable for underfloor heating and ideal for floating installations in flats where sound reduction is required. This light to medium brown oak floor has been prefinished with multiple coats of ultra hardwearing matt lacquer.
Key Features:
Brushed & Oiled ensures maximum durability and recreates the natural look of an oiled floor without the need for re-application
Rustic grade allows for small to medium size knots, variations in grain and color, filled splits, and mineral streaks for the most natural look
3mm sandable depth will allow you to sand and refinish your floor several times
The engineered construction is more stable than solid wood which means it is less likely to gap, warp or cup
14mm thickness allows maximum heat transfer when used over underfloor heating
Wide planks and 80% Fixed lengths of 1900mm will complement any room size
Micro-beveled on all 4 sides for a traditional plank definition.
Installation:
Please ensure this flooring is installed by an experienced floor fitter or other competent professional.
The product uses the 'click' method of installation.
The click method has its own clear benefits when compared with a product that uses the tongue and groove installation method.
Suitable for underfloor heating and all areas except bathrooms and wetrooms
Shorter acclimatization than solid wood, ready to fit in a couple of days
Please see the installation manual for further information
Full Specification
Installation
Floating Floor - Click System
Length Group
2200 Fixed Lengths
Width x Thickness
14mm x 207mm
Free Sample Available
Yes
Underfloor Heating
Suitable
Manufacturer's Suggested Retail Price
£79.99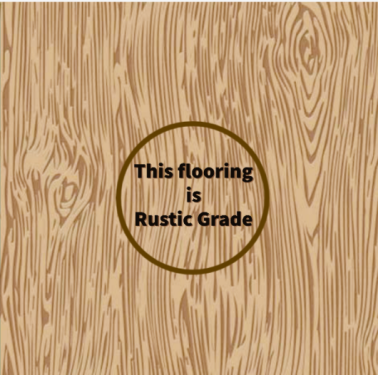 Rustic grade flooring comes with virtually limitless size and number of knots per board. Due to the usage of heartwood & sapwood, colour variation is to be expected. Cracks and knots are often filled with filler to complement, rather than match the colour of the wood. As the letter abbreviation suggests, this grade is mixture of some occasional cleaner boards with more natural/rustic ones.