What is luxury vinyl tile flooring?
LVT, or luxury vinyl tile, is a material that replicates real wood or stone but is actually constructed of a number of flexible layers that are thin enough to be cut with a knife. With the practicality of a tile and the comfort of a carpet, this incredibly durable product is a fantastic way to warm up your house.
LVT flooring is a simple solution for the eager do-it-yourselfer or those on a limited budget because you can install it yourself. It is based on either a click or glue adhesive.
What makes LVT flooring so popular?
Different varieties of luxury floor tiles are better suited for various rooms of the house, and they are a popular choice in many of them. However, they are generally warmer, more soundproofing, and thinner than standard ceramic or porcelain tiles, which is helpful if you can't add much depth to an existing floor.
They are much more resistant to wear and scratching than actual wood, but nevertheless have the same texture and grain details. Alternatively, luxury vinyl tiles are a more affordable and low-maintenance option if you love the appearance of stone effect flooring.
To make it simpler to choose the perfect flooring for your tiling project, we have broken down the primary categories in our LVT collection. Different kinds of LVT have different material makes up and consequently different qualities.
The SPC (Stone Polymer Composite) luxury vinyl tiles have a strong core for increased durability. With its integrated underlay and click locking system, this glue-free format is quick and simple to install with only a knife.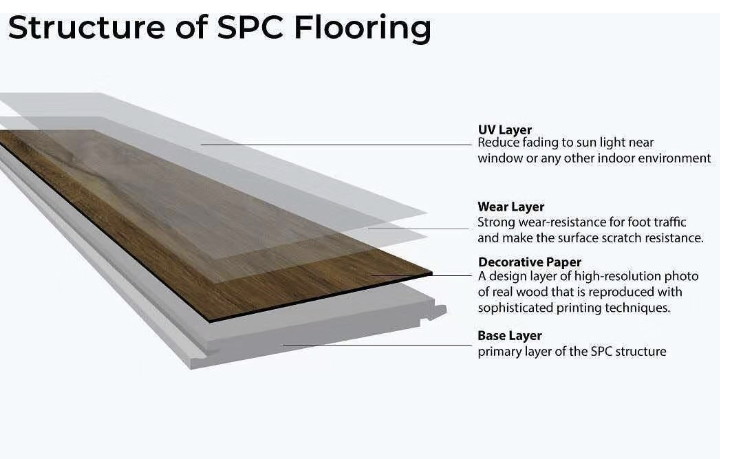 WPC, or wood plastic composite, is an engineered vinyl plank that offers you a luxurious flooring alternative for your home when it comes to vinyl flooring. This product, which is still quite new on the market, benefits from being built with cutting-edge technology.
The bulk of WPC vinyl alternatives come in thicknesses between 4.5mm and 8mm, making them thicker than SPC vinyl options. Because WPC flooring has a wood core, it is softer underfoot than SPC. A foaming ingredient, which is also utilised in the core, provides a further cushioning effect.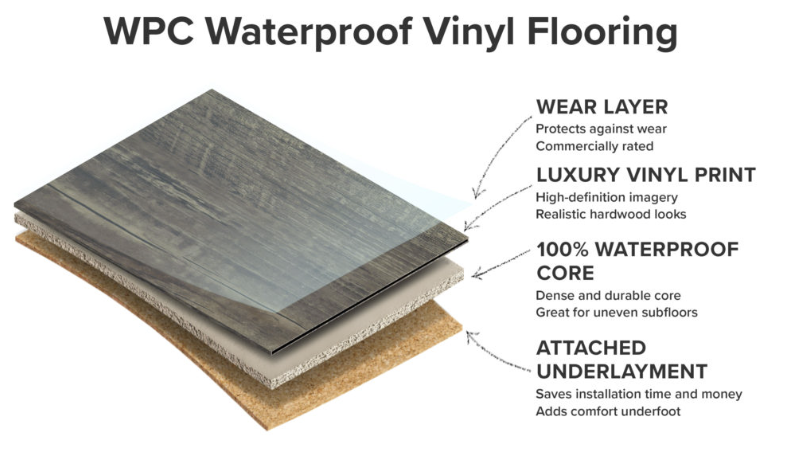 Both WPC or SPC are perfect to use throughout the house to provide heat and sound insulation. They are completely waterproof, easy to clean, and stain- and scuff-resistant, thanks to their natural texture.
LVT Flooring maintenance:
If done regularly and correctly, cleaning vinyl floor tiles is a quick and simple process. Get a high-quality vacuum cleaner that is appropriate for hard flooring first. You may also use a brush to pick up any loose dirt.
After that, wipe the area with a mop that has been thoroughly wrung out or a damp towel, being careful not to flood the floor. We would suggest a product like HG vinyl floor cleanerr, which has 5-star reviews on amazon. Or alternately, using an electric mop is faster than a manual one, lets you manage how much water is used, and polishes your floor for a streak-free surface that dries in a matter of a minute
Depending on how often the space is used, it is advised to clean your LVT flooring once or twice a week to prevent stains from setting into the surface. The best practise is to clean up these spills as soon as they occur to keep your floor looking brand new.
Always examine the label of any cleaning solution you intend to use on your floor to ensure it is suitable for vinyl flooring and, if necessary, safe for children and pets. Use a small amount of the cleaning solution and buff the floor thoroughly once it has dried because these solutions occasionally contain chemicals that make a surface slippery. Wax shouldn't be used for the same reason and can also make your vinyl tiles look less appealing.
Some stains can be challenging to get rid of, especially on kitchen floors, where greasy spills and splashes are common. Don't soak the floor when cleaning LVT flooring; instead, use a moist towel dampened with hot water and a light detergent to assist loosen the stain.
When the stain has been erased, mop the floor with a fresh, clean cloth moistened in water. Make sure there are no water puddles, then buff the surface to help it dry more quickly.
How to maintain the appearance of your luxury floor tiles
While routine cleaning and care are necessary to keep any floor in your home looking spotless, there are a few additional guidelines we'd suggest following to keep your luxury vinyl tiles looking their best for the duration of their useful lives.
Use doormats at all of your home's entrances to collect dirt and moisture before your foot on your LVT flooring. Keep in mind to routinely clean these mats as well!
It is best to avoid installing LVT in locations with intense sunshine because some LVT ranges have UV protection. However, some don't. Alternatively, to prevent any discoloration of the tiles, keep the curtains, shutters, or blinds closed during the hours of maximum sunshine.