The complete guide to Engineered Wood Flooring. The most common questions we are asked from our customers at Easy Step Flooring are:
What distinguishes engineered wood flooring from regular hardwood flooring
What benefits come with engineered wood flooring over other choices, specifically?
We will examine what engineered wood flooring is, maintenance tips and what is engineered hardwood flooring?


Below are detailed explanations although if you'd like some further advice feel free to speak to our technical department who will be happy to assist you.
What is engineered hardwood flooring?
On the surface, engineered wood flooring resembles solid hardwood almost exactly however engineered flooring is made up of multiple layers of softwood such as birch plywood. Genuine hardwood i.e., oak, walnut other wood species is utilised for the top layer, and quicker-growing softwoods like birch or pine are used for the bottom levels.
The top layer must be real wood for engineered wood flooring to be considered authentic. In contrast to solid wood, you get all the natural grain's beauty together with a number of extra advantages, as It is extremely stable, up to seventy-five percent more stable than solid wood flooring, thanks to the moisture- and temperature-resistant softwoods in the lowest layers.
How can I determine the thickness of the top layer?
When you purchase engineered wood flooring, a number indicating the thickness of the top board and the overall thickness of the floorboard will be presented. For instance, a board marked as 20/6mm indicates that the board is 20mm in total thickness, with 6mm being the genuine wood veneer layer. Therefore, the 20/6mm's with a 14mm core section.
How many different types of engineered wood flooring exist?
The three primary varieties of engineered wood flooring are discussed here.
Multi-ply - Due to its strength, this type is the most popular one and is perfect for high-traffic locations. It comes in different thicknesses and widths and has a feel that is most similar to genuine wood flooring.
A three-ply engineered wood floor - 3-ply is less durable than multi-ply, it's good if you're searching for a cost-effective choice that still looks great. To compensate, pick narrower boards rather than wide planks.
High-Density Fibreboard known as HDF core - because of the click-and-lock method, these are really simple to install. They employ a unique design with high-density fibre cores in place of wood cores, making them lighter without sacrificing strength.
How to install engineered hardwood?
Every property has a unique natural humidity level, which is almost certainly different from the setting where your floor was first placed. A room's humidity is influenced by temperature and moisture, and variations in either of these factors might cause your floor to contract or expand. Thankfully, you may reduce this by allowing your floor to acclimate to its new surroundings. It is also quite easy to carry out.
For more information please visit our advice centre or speak to our team members to guide you.
The most important thing to keep in mind while installing engineered wood flooring, or any other type of wooden flooring, is to stagger your joints as shown below: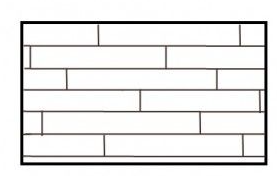 Checking and ensuring that the subfloor is clean and level is the first thing to accomplish. Before you begin working, any surface gouges or holes should be carefully filled and given time to fully dry.
Determine if an underlay is necessary. Prior to beginning to lock your boards into place. It could take some time to get used to this. Our best advice is to roll out the underlay and give it 24 hours to lay before beginning work.
We recommend using a flexible polymer such as Rewmar( https://www.easystepflooring.co.uk/accessories-for-wood-flooring-fitting-at-best-prices/adhesives/rewmar-ms-polymer-adhesive-15kg ). Rewmar MS Polymer Adhesive is a flexible wood flooring adhesive. It is suitable to use when installing any type of wooden floor to almost any subfloor. MS Polymer is a one-part, modified silane based flexible wood flooring adhesive. When dry it has a high bond strength between the wooden floor and the subfloor but remains permanently flexible. This allows the flooring to move as the seasons change but it will not crack, and the floor will stay adhered to the subfloor.
Compose your opening line. Your initial line should be drawn parallel to the starting wall. Then, construct your floor row by row, making sure to use the "click and lock" procedure with each board to ensure that it locks securely into place against the line before it.
Wait until the adhesive has fully set, which should take around 48 hours, before standing or walking on the floor.
Can engineered wood flooring be installed on top of underfloor heating systems?
The advice from the manufacturer is actually what matters. To prevent warping or twisting, you must allow the wood flooring to acclimate to the surrounding temperature. Normally, this takes four to five days. To make sure the subfloor is dry, you might need to perform many heating cycles. Keep in mind to provide 12 to 15 mm of expansion space all around the room.
How are engineered wood floors cleaned?
Engineered wood floors may be cleaned much like hardwood floors using the same method. Dust may be controlled by routine vacuuming, and surface debris can be removed once a week by wiping down the area with a moist mop. To avoid leaving puddles that could cause water damage to the surface, always remember to squeeze the extra water out of the mop.
Frequently applying a maintenance oil and polishing will enhance the top layer. A very moderate sanding will remove the surface dust from engineered wood flooring that has been heavily discoloured or appears a little worn, revealing the gorgeous grain underneath. To protect the surface, sand with fine grain paper using very light pressure.
What characteristics make engineered wood flooring the best?
Wear Layer- A high-quality engineered wood floor is made of several layers that are layered across. The strength and durability of the best-engineered wood floors are a result of this structure. The wear layer, often known as the top layer of the board, is made entirely of solid hardwood. Several wood strips are used to create this layer in some less expensive types. You can notice that the wear layer varies in thickness between ranges when comparing boards.
The board can be sanded back more frequently and for a longer period of time if the wear layer is thicker. At Easy Step Flooring, we stock wear layers ranging from 3mm – 6mm which can last as long as a solid wood board.




Core Layer - The phrase "core" refers to what is found beneath the oak, and despite the fact that you will never see it, it is one of the most crucial aspects to take into account when choosing the best engineered wood flooring. The stability of the engineered wood floorboard is determined by this section of the board.
The quality of under-cores might vary, but a high-grade board will feature a hardwood ply known as a multi-laminate ply. Due to its cross-layered composition, plywood is widely utilised in the building industry and is renowned for its strength and stability. Many less expensive engineered wood flooring options consist of a "three ply "-style core. Although slightly less expensive, this kind of engineered board is less sturdy and dependable than multiple layers.
If you plan to install or have already installed an underfloor heating system or are installing the boards in an area that is subject to temperature or humidity variations, it is very vital to choose a high-quality core. Choose multiply plywood cored boards since they are much less likely to swell or contract due to their sturdy cross-layered construction.
Dimensions - Engineered wood floorboards are available in a variety of lengths and widths, all of which when installed produce various effects. When selecting a board with the size that would work for your property, there is no "right" or "wrong" choice; it is entirely a matter of preference. However, there are a few things to think about.
Floorboards that are shorter and narrower are always less expensive to buy, and this might be a good method to save money without sacrificing the overall quality of the board. Additionally, some people believe that a narrower, shorter board has a more traditional and less modern feel to it, making it better suited to some types of properties. However, once more, much of this depends on personal preferences.
On the other hand, wider and longer boards will always cost a little bit more but always take less time and require less fitting. When determining the cost of your project and the appropriate engineered wood flooring for the use case, this is a crucial issue to take into account. Additionally, long and wide floorboards will display more of the timber's unique grain before breaking it when joined to another board. Many people think they look slightly more appealing as a result.
Finish - You can buy engineered oak flooring with the boards either pre-treated (i.e. finished with certain stain oils or lacquers) or untreated, allowing you to treat the boards on-site with a finish of your choice to fit your needs.