Many are unaware of the true nature of engineered wood flooring and that it is created the same wood as solid wooden planks. Quality engineered planks are able to offer the same luxury and durability as solid hardwood flooring, so many are often wondering what is the real difference between the two? Follow our blog to find out the components of engineered flooring and how it may be the most suitable flooring option for your space.
Engineered flooring is comprised of two or more wooden layers that are bonded together in order to create a wooden plank. In fact, the multiple layers adhered together are what make the plank stronger as a whole, allowing the floor to be more durable against climate variations and resistant to moisture.
Each individual layer of the planks is what make this type of flooring unique. The top layer is composed of your preferred species of wood, as it will be the wood that you see along the floor surface. Typically the surface layer of engineered flooring is made of oak wood, as it is the more popular of flooring choices. The surface layer is able to be stained in a large variety of colours to customise your flooring needs. Depending on your personal preferences, you may fit your flooring with either unfinished or prefinished surfaces. The unfinished surface offers the freedom to stain and seal the floor on your own. If you decide to select a finished engineered flooring, typically the factory sealer is more durable against daily wear than manually applied finishes.
The additional layers are typically composed of a variation of wooden materials that are bonded together onto the surface layer. This multi-layer bonding not only offers the structural base of the floor but also is a eco-friendly option since the layers are a mixture of wooden leftovers. A quality engineered floor will last just as long as solid wooden floors and even may be re-sanded to last even longer. Engineered flooring has become an ideal choice for consumers, since it is able to offer the same durability and luxury as solid wood floors at a cheaper price tag.
If you are interested in incorporating engineered oak wood flooring into your space, make sure to obtain free wooden flooring samples to ensure it is the best choice for you and your home. As always, stop by our blog for all of your wooden flooring needs.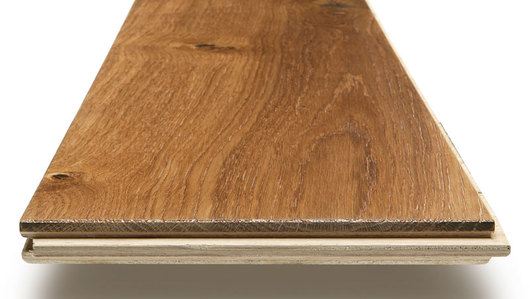 Engineered Brushed & Oiled Oak Plank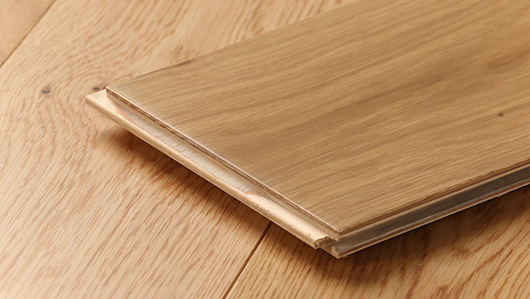 Engineered Lacquered Oak Flooring