When it comes to hardwood flooring, there is always a maintaining component. The floors look and feel great, but you must keep them up in order to take advantage of their value. Over time, the wood can scuff, mark, or even stain; sometimes you can refinish the floors, but other times you need to call your flooring company to replace them.
First off, know that typically engineered hardwood floors need more refinishing than solid hardwood floors. While there are many benefits of installing the former, this is one the negatives. Engineered wooden floors can be refinished about two or three times, and after that, they need to be replaced.
If your floors are simply scuffed or slightly marked, you probably just need a refinishing. Maybe take a look at your solid oak flooring samples and you can see how and if your floor has deteriorated. If you have some damaged areas, consider only replacing those, depending on how recently your flooring has been done. If you decide on a refinish, consider calling in the experts – it's usually worth it.
Then, how do you know if you need to replace your wooden floors?
If your floors are really old, over 50 years, and they have been refinished many times, then consider replacing them. Or, if they bounce at all, then it is time to have them completely redone.
Other reasons why people choose to have them redone is they want to change the look. For example, maybe you fell in love with hand scraped oak flooring or you want the wood in a different direction. In those cases, you must completely redo your floors; there is no refinishing that will change the look like that.
The difficult part is: Refinishing your floors will take more time, but replacing your floors will cost more money. What you must consider is how much longer you plan on staying in the home or flat, what condition the floors are in currently, and if there are any pattern or style items you would like replaced. And, as always, you can call an expert to take a look and give you advice on your next step with your wooden floors.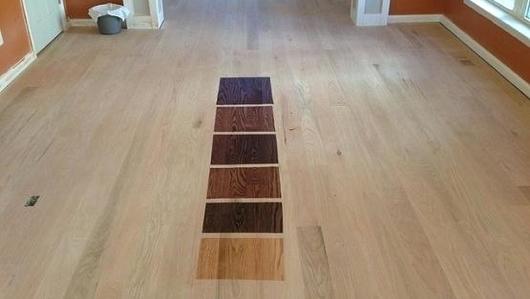 Choosing the right Color Stain for your sanded down unfinished floor..