Do you know which is betterfor your home?
We've already talked about what is solid wooden flooring and what is engineered wooden flooring, so now you are probably wondering which type to install in your home. For many, this can be a difficult decision, as this is not a process to be repeated often. If you are deciding between solid vs. engineered wood, then here are some points to take a look at first.
1. Weather Conditions: If, by chance, you are looking at wood flooring in Kent, you must be aware of what the humidity can do to the wood. Solid wood flooring is susceptible to extreme climate changes and can shrink or swell with the weather conditions. Engineered wood, however, gives more stability when it comes to weather shifts and is less likely to change with the climate.
Winner: Engineered Wooden Flooring
2. Refinishing: Solid wood flooring can be refinished several times; it can even be sanded to about one-third of the plank, which is a lot of refinishing. Solid wood lasts generations, while engineered oak flooring is only now reaching that lasting duration. There are engineered woods that can be refinished a lot, but you must choose the correct type.
Winner: Solid Wooden Flooring
3. Location of Installation: Before you decide which type of wood, you must take a look at the location where you are installing your new floor. If you installing over concrete, you have to use engineered wood, unless you want to first install plywood, which takes time and cost.
Winner: Engineered Wooden Flooring
4. Home Value: Solid wood floors can really increase the value and prestige of your home. While engineered oak floors now look the same, they aren't valued as highly as solid wood. If cost is no issue when it comes to your flooring, you can have solid wood floors made from unique combinations of wood from around the world.
Winner: Solid Wooden Flooring
These days the look of the wood is very similar. If you take a look at two wood flooring samples, one solid and one engineered, many people cannot tell the difference. Before committing to one or the other, take a look at our tips to see if that helps you decide one type of the other.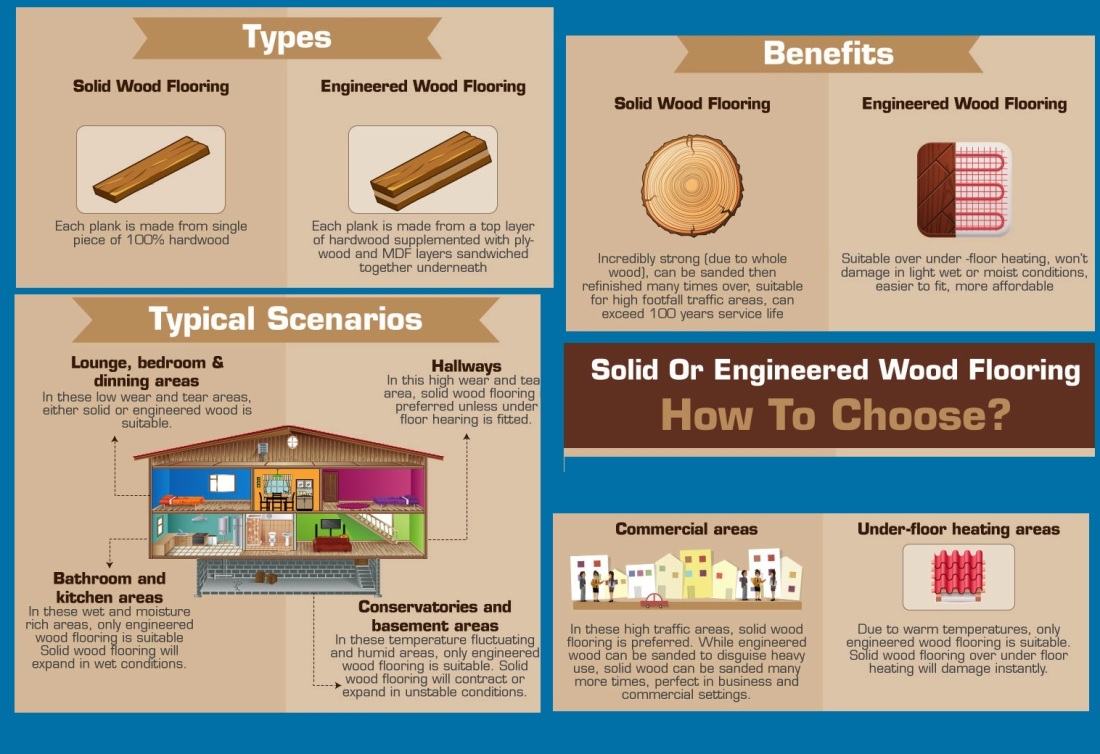 Benefits of Solid & Engineered