The advantages and disadvantages of obtaining hand scraped flooring in your space.
Are you familiar with hand scraped flooring? Many customers are not. So, before you select solid oak flooring from the UK, take a moment to acquaint yourself with the the rustic trend offered from hand scraped flooring. Follow our blog for everything you need to know when it comes to hand scraped flooring.
What is Hand Scraped Flooring?
Hand scraped flooring is composed of the same materials as solid or engineered wooden planks, but it's finished with a special distressed technique. This technique creates little splits, dents and curves throughout the surface of hardwood flooring and, once fitted into a space, the distressed planks will leave an overall vintage and rustic appeal in any space.
The History of Hand Scraped Flooring
This method of distressing wood actually dates back as late as the 1600's. Originally, people would use this technique of hand scraping floors to level uneven differences between planks. With all the advanced processes in wooden flooring today, this technique is solely used for an aesthetic appeal.
Advantages
As all wooden flooring comes with its advantages and disadvantages. One of the most best reasons for why hand scraped flooring is an asset to a home is that it hides flaws. When any scratches or splits happen to the wood from daily wear, it will only accentuate its natural appeal. This eliminates the constant worries of shoe, pet, and children damage that affects most wooden floors.
Note: This can be a convenient type of flooring for spaces with heavy foot traffic.
Colour and stains are another advantage of this style of wood. This day in age, the wooden floor can be stained into any colour. Additionally, hand scraped flooring is offered in both solid and engineered flooring.
Disadvantages
One disadvantage to hand scraped flooring is that it can't be re-sanded and refinished like other wooden floors. If you were to sand the surface, you would remove all of the distressed marks and therefore remove it's rustic appeal. If you did re-sand the floor, you would have to repeat the entire distressing process. Although, how often would someone need to revive a distressed floor?
As you search for the best priced flooring in the UK, make sure to request wood flooring samples to test within your space. In fact, try the engineered oak flooring free samples offered from our site. As always, stop by our blog for all of your wood flooring needs.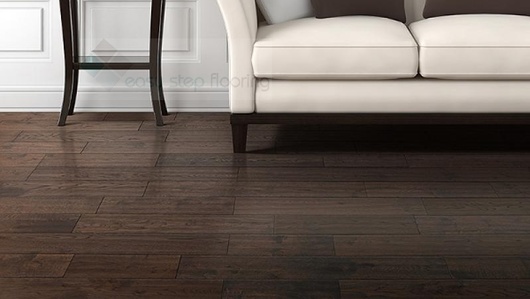 Solid Handscraped Coffee Oak 18mm x 125mm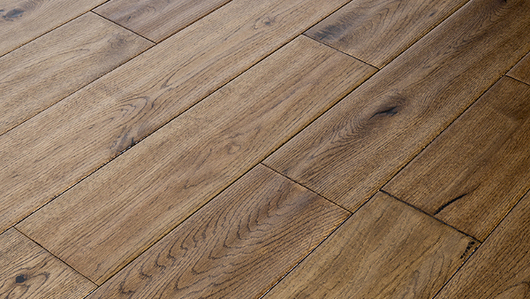 Solid Handscraped Tobacco Oak 18mm x 125mm